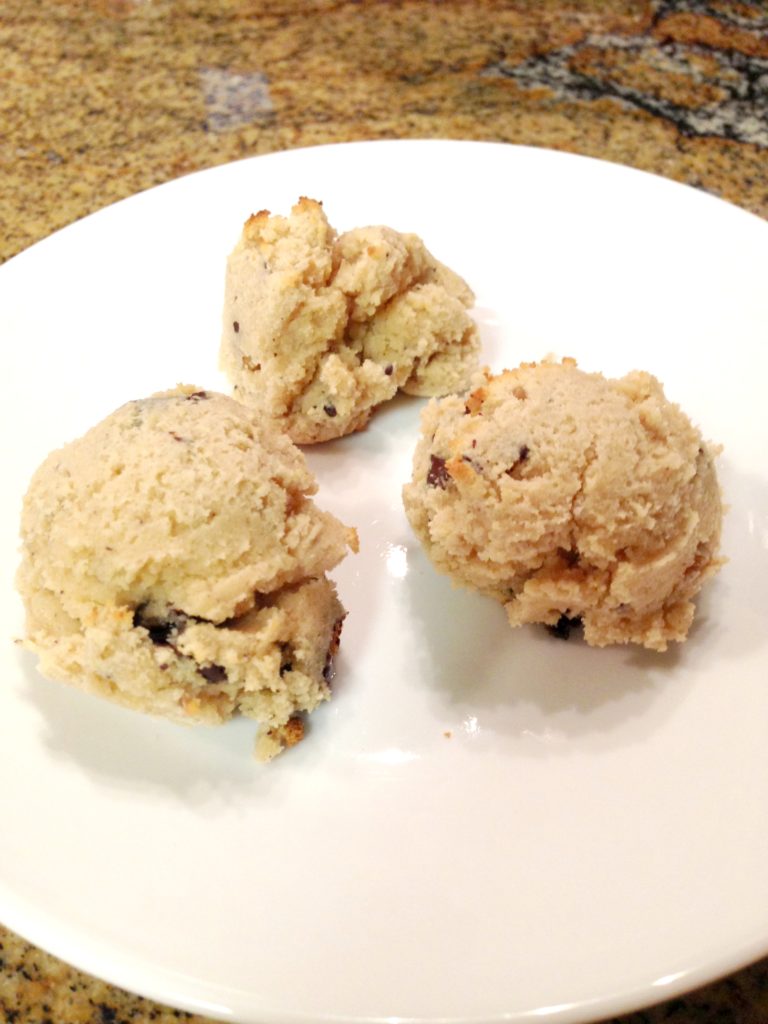 Learning to bake without sugar and flour has been a serious challenge for me. I love to bake, I always have. We are not entirely sugar or gluten-free. However, at home I try to keep our treats that way. There really are a plethora of recipes out there that follow those regulations. I have found, for the most part, that these are hit and miss. Either the recipe is a total bust, or I try to substitute for the flour and sugar with disastrous results. These are four of my favorite, fool-proof desserts. Each one has turned out perfect for me. They either have an alternative flour or sugar source or are easily adaptable. They are all the creations of other talented bloggers, whose links can be found in the descriptions.


There is just something about a chocolate chip cookie... Something that I have found impossible to recreate without flour and sugar. I love my cookies soft and a little gooey. This recipe from
Mrs. Criddles Kitchen
hits two big notes for me-
1. The cookies taste amazing. They really do taste a lot like your typical chocolate chip cookie. Fresh out of the oven, these are out of this world.

2. They use exclusively coconut flour. Coconut flour is so much more affordable than almond. Unfortunately it is also really dry. I haven't found a single recipe that uses exclusively coconut flour that is not nasty. I think the cream cheese really helps the moisture content.

My final tip when making these cookies-- leave them in a ball as she suggests. I think the shape helps lock in the moisture of the dough.
_________________________________________________________________________________
I feel like there is really no explanation needed as to why this is delicious. Just look at the picture. This beauty comes from
All Day I Dream About Food
. This is a perfect recipe to bake for finicky family and friends; you know, the ones who think you eat cardboard. This dessert is so decadent, all without the sugar or flour.
She uses Swerve as a sweetener here. I have used truvia with great success too. I have all used the crust recipe as a base for other treatshttp://mrscriddleskitchen.com/coconut-chocolate-chip-cookies-s/.
The recipe on a whole is a little involved. However, the results are totally worth it. This dessert is pretty much impossible to resist.
One last note, this cheesecake does not stand up well to heat. I made it for 4th of July and it got soupy fast. Keep it chilled until you're ready to serve.
_________________________________________________________________________________
Banana Bread is a family favorite around here. I was so pleased when I found this recipe by
Minimalist Baker
. Best of all, all you need is one bowl. I love baking a loaf of this on a cloudy afternoon. It is pretty much perfection with a hot cup of coffee.
In this recipe she sweetens with cane and brown sugar. I always sub those out with truvia. Everything still comes together great. I have also made it with coconut sugar, which adds a great flavor.
This recipe does have you use almond meal, gluten free flour and oats. I generally have all those on hand. I keep a few things of Bob's Red Mill gluten-free flour around. I have been really happy with the results.
_________________________________________________________________________________
This recipe is from the talented
Minimalist Baker
as well. Gingerbread is a holiday classic that I start craving in the winter months. Generally, gingerbread is hard and crispy. In this recipe these cookies are clouds; soft, pillowy gingerbread clouds.
I probably made these too many times last year. I went a little gingerbread overboard. These are perfect with coffee too.

The recipe calls for a flax egg and vegan butter. We are not vegan so I use a regular egg and regular butter. I replace the brown sugar with coconut sugar. Even with the substitutions these turn out amazing.

My tip, after these have cooled, place them in a sealed ziplock bag. They keep their soft crumb much longer that way.